I wanted to use my Saturday posts to highlight some great bloggers out there. This week's feature blogger is wonderful and I hope you love her as much as I do. If you'd like me to highlight you, just send me an email: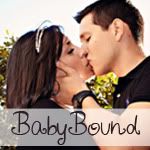 Name: Mia Eliza
Blog's Name: BabyBound http://babycravings.blogspot.com/
Type of blog: Mommy/Baby Blog
~Tell us a little something about yourself: Ever since I was a little girl I dreamt of having a family. My dream is coming true because I'm pregnant with our first child due March 4th 2012.
~If you had only 1 wish, what would it be and why?
If I had just one wish, it would be to make and keep everyone is my life healthy. Money, beauty and success may add a little fun to your life, but good health is something to be treasured and cannot be bought.
~What's your favorite thing about where you live and why?
Hmmm. I'm not crazy about where I live but if I had to pick one thing it would be that this is where I moved after I got married. This is where my hubby lived and where his job is. I love that we started our life here together.
~What's #1 on your 'Bucket List'?
Have a baby!
~3 words to describe yourself would be…?
Loyal, Loving, Passionate ( my husband picked those. I agree)
~1 little known fact about you is…?
I can beat ANYONE at connect four. Don't believe me? It's true!
~1 vice of yours is…?
Nail biting ( does that count? )
~Why did you start blogging?
March 2011
~What's your favorite thing about blogging?
Connecting with other people who know where I'm coming from.
~What do you think makes for a successful blog?
Honesty. The blogs I'm "addicted" to all have something in common. They have their own voice and they stay true to who they are.
~3 words to describe your blog would be…?
Clean, Honest, Mommylicious ( haha I made that last one up)
~What's 1 blog (besides yours) that you think everyone should check out?
AltogetherBeautiful.Blogspot.com
Filed under: Saturday Shout Out |